Google has announced the release of its Geospatial Creator for the Unity platform, which allows developers to explore 3D materials in the Unity Editor.
The toolkit, which allows users to view geographically connected items on a hyperrealistic 3D global map, enables AR-Core and Photorealistic 3D Tiles via the Google Maps Platform, according to the company's website. Users may choose a place, download 3D geometry of the area, and traverse virtual maps with flythroughs similar to Google Earth. People may also create augmented reality (AR) experiences using the platform's 3D viewing function.
Google has released Photorealistic 3D Tiles as an experimental version for use with its Map Tiles API. Google's latest innovation effortlessly produces 3D mesh representations of real-world locales using high-resolution optical data and 3D map sources.
Augmented Reality and Immersive Experience
Technology easily merges with the real world in the field of AR development, superimposing digital aspects onto our actual environment. AR enables interactive experiences that merge reality and virtual aspects, increasing user engagement to unprecedented levels.
AR has paved the path for enthralling immersive experiences that cross traditional boundaries. From gaming and entertainment to education and retail, sectors are making use of augmented reality's ability to provide engaging experiences and storytelling in ways never previously possible.
Google's Geospatial Creator: A game changer
Google's Geospatial Creator emerges as a pivotal platform empowering developers to create location-based AR experiences with ease. This innovative tool enables the integration of digital content into real-world settings, allowing users to interact with virtual objects seamlessly.
How does Google's Geospatial Creator Work?
Google's Geospatial Creator for Unity now provides visualizations of over 2,500 cities in 49 countries. This includes "comprehensive 3D geo datasets," from which users may choose representations and data overlays.
The platform makes use of Cesium's Open Geospatial Consortium's 3D tile standards, enabling compatible renderers and visualization packages.
Gaming companies, according to the tech titan, can create real-world models for AR-based immersive experiences. Developers may also use its Geospatial Creator to create AR experiences at actual locales.
Geospatial Creator utilizes Google's ARCore and Google Maps, enabling seamless integration through Unity and Adobe Aero Geospatial Pre-release. The platform benefits travelers with spatially-anchored data navigation, while city planners, construction firms, and news agencies gain from bespoke immersive maps for planning, development, and transformative storytelling.
Embrace Geospatial Creator and unlock a world of limitless possibilities in augmented reality and geospatial technology.
What can you do with Google's Geospatial Creator?
The Geospatial Creator is not yet available to the general public. Early access users and partners may use it to develop project previews of what will be possible with Geospatial Creator. The Singapore Tourism Board, for example, is utilizing the technology to create an interactive guided tour of the city's prominent attractions.
It shows the city's mascot, Merli, exhibiting and discussing the city's various sites in an augmented reality tour, as well as some moments from the past that help you understand the city's history. The trip begins at famed Merlion Park and ends with an AR symphony concert at Victoria Theatre and Concert Hall. The video below provides a sneak peek at this experience. The entire tour will be launched this summer.
The Geospatial Creator grants you the superpower of remotely creating world-class augmented reality experiences. It allows both makers and developers to design and deploy immersive experiences in the 100 or so approved countries where Photorealistic 3D Tiles are accessible in a matter of minutes. Geospatial Creator allows you to quickly construct valuable apps.
Importance of AR in transforming urban landscapes
The urban landscape is experiencing a stunning and engaging transition, which is primarily being pushed by the gripping force of Augmented Reality (AR). This hypnotic technology has gone beyond traditional bounds, ushering in a new age of experiencing and engaging with cities, leaving an unforgettable impression on our collective psyche. Let us look at the compelling reasons why AR is so important in influencing the urban environment and improving how we view and interact with our cities.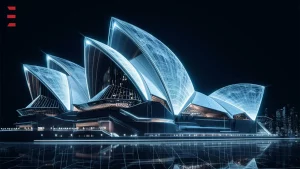 To begin with, one of the most important contributions of AR to the urban scene is its capacity to break down barriers and pave the way for increased accessibility within cities. Augmented reality helps a broad range of people traverse urban environments with increasing comfort and confidence by effortlessly superimposing digital information onto the actual world. Individuals with vision impairments, for example, may now rely on AR's audio signals and sensory upgrades to traverse maze-like streets with more freedom and safety. Similarly, using AR-enhanced navigation systems, tourists and visitors may easily explore the city's hidden jewels and monuments, unleashing a world of possibilities for everyone and encouraging inclusion in the urban landscape.
One of the most enthralling and awe-inspiring qualities of AR is its potential to bring cities' cultural tapestry and historical fabric to life. Augmented reality encourages tourists to go on magical excursions across time by carefully layering virtual components onto actual monuments. Imagine standing in front of a historic landmark and experiencing the majesty and splendor of its bygone age emerge before your own eyes with a slight tap of your smartphone screen. AR turns cultural events into engaging and immersive storytelling, inspiring a deep feeling of connection and admiration for the city's rich legacy.
Unlock your AR Visions with Euphoria XR
Are you ready to bring your Augmented Reality (AR) visions to life? Look no further than Euphoria XR, our IT solutions company dedicated to turning your AR dreams into reality. With a team of skilled AR and Unity developers, we possess the expertise and passion to tackle crucial projects with unmatched creativity and precision.
At Euphoria XR, we recognize the enormous potential of augmented reality in transforming how we interact with the digital world. Our team is dedicated to realizing this promise and creating immersive augmented reality experiences that fascinate and engage your audience. Our developers can convert your ideas into practical, mind-blowing realities, whether you anticipate interactive gaming apps, inventive marketing campaigns, or cutting-edge training simulations.
We take pleasure in remaining at the cutting edge of AR technology, leveraging the power of ARCore and other industry-leading platforms to push the boundaries of what's possible. We advise you every step of the way, from design to implementation, assuring seamless integration and providing outstanding outcomes.